For many years, the desktop was the only option in terms of the case for your computer system. Today there exists a wide range of towers and desktops are uncommon. Micwil recommends mid- or full tower cases, which range in height from 19" - 24". These cases provide sufficient cooling space while retaining affordability. Smaller towers tend to be poorly constructed and are not very durable. Full towers (21"+) should only be used if you require a large number of bays (typically for SCSI devices). Desktop cases are inherently crowded, with cables and components fighting for space. As a consequence, the fans in these systems tend to be less effective at cooling the system. Ideally your case should be wider than the standard 7 inches and have ventilation holes at the front bottom of the case to provide maximum ventilation.

There are two types of power supplies - AT and ATX. All current motherboards require an ATX power source and few support the older AT power supplies. ATX power supplies are superior as they deliver a more regulated current to the motherboard. ATX cases also typically have space for a second and third fan (for additional cooling) and second power supply (to support additional high-powered devices).

Nearly all 'name brand' cases are proprietary and not as adaptable to future upgrades as 'clone' cases. Features to look for in your case include:
Solid metal constuction for all panels, sides (everything essentially with the exception of the front plastic bevel) - not plastic or 'flimsy metal'
Metal cross braces within the case which give the case strength and support.
Access panels which allow the motherboard to slide out for easy access.
Removable hard drive cage to allow easier access to hard drives.
Unused bays should have metal plates to add strength to case.
Minimum height of 19", to allow for adequate ventilation.
Minimum width of 7", to allow for adequate ventilation.
Slatted airholes in the front of the case, so that the cool outside air gets to where it is needed (the bottom of the case, forcing the hot air upwards), but the dust stays out.
A sliding door which seals off the exposed drive units such as floppy drives, CD-ROM drives and tape backup drives and prevents dust from getting into these components. In addition it helps to keep the prying hands of children away from sensitive components.
Capacity to mount an air intake fan at the front and bottom of the case as well as a additional outtake above or below the power supply.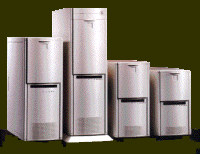 At Micwil, we sell a case which meets all of the above requirements. Our designer's case has a sliding door, a wider design (assisting in ventilation) and ventilation slats in the correct position. These cases come with ATX power supplies of 250W or 300W.