Micwil Computer Consulting provides a wide range of solutions which minimize cost while maximizing the achievement of a client's goals including:
Hardware and software upgrades such as increasing memory (RAM), mounting a larger hard drive, setting up networks, or installing other components (fax modems, CD-ROM drives, sound cards, scanners, etc.).
Customized software solutions specific to a client's office needs in MS-DOS, Windows '95/'98/2000, Windows NT 4.0, Mac O/S or LINUX.
Tutoring, teaching and training on both hardware and software, on-site or at Micwil Computer Consulting.
Troubleshooting and configuring existing software and hardware
Accepting parts and systems for immediate trade or consignment.
Supplying both new and used systems, parts and software.
Internet consulting, including web page design, web hosting, ecommerce solutions, internet marketing strategies and Internet feasibility assessments for your business.
Goal oriented problem solving - you tell us what you need, and we will suggest a mixture of hardware, software, and training to effeciently reach your goal.
We also provide advanced consulting services such as:
Network security assessment
Internet sharing and routing configuration
TCO (Total Cost of Ownership) analysis for various deployment options
Ecommerce consulting and solutions
Total e-business management options
Not every solution will require a complete system using the latest technology. Often, a small upgrade in hardware, software or even additional training will be sufficient. In addition, sometimes providing accurate, unbiased information will allow a solution to be found. For example, if you are wanting a machine for basic Internet access, you may want to consider a used high-end 486 or Pentium system rather than the more common solutions.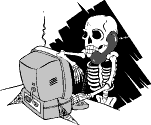 While other companies just talk about service, we can't afford to make any errors which would result in an unsatisfied client. Our company is small but growing, and we pride ourselves on our high referral rate and level of customer satisfaction. In addition, we help our clients to become as self-sufficient as they want to be by allowing them to watch and learn when upgrades, installs and troubleshooting is done on their computer. In addition, we promise never to leave you on hold for more than a few seconds, as our message manager service is always there to immediately record your request. While we may not be able to get back to you within the hour, we always will return your call within one business day. And you won't have to grow old listening to elevator music.
Micwil provides you with the following service options (usually at no additional charge depending on your location and the type of work required):
On-Site - we will come to your home or office and do the work, minimizing your downtime.
Pickup - we will come to your home or office and pick up the items requiring work and return them when the work is completed.
Depot - you bring us the items requiring work done on them and pick them up when the work is completed.
Our labour rates are among the most reasonably priced in Saskatoon. Our standard rate (for depot service) is $70/hour. And most consumers qualify for our $10/hour discount for work on home systems (depot or on-site only). Finally, at Micwil we feel that non-profit organizations and charities should be supported by everyone in the community, and so we give an additional $10/hour discount on all services for not-for-profit organizations and registered charities.
| | | |
| --- | --- | --- |
| | Finally, as a special incentive to 'try us out', we offer a FREE initial 15 minute consultation to assist in any computer purchases you may be considering for your home or office. Call today and arrange for an appointment!!! | |
So why not take our service out for a test drive? It doesn't cost anything to make a phone call, and you may be surprised at how reassuring it is to have reliable and professional computer service at your fingertips. We also offer longer-term support contracts at reduced rates for the cost-conscious small business or organization.